iSMS Philippines SE Contact Form Wordpress Plugin
Download iSMS SE Contact Form Wordpress Plugin
SE (SMS/ Email) Contact Verification Form comes with mobile number verification functionality combining OTP (One-Time Password) feature. It will not only act as a filter function but also keep track of your prospects when they make inquiry on your website. All contact details will be stored directly to iCRM (an CRM software developed by our company).
Combining both SMS and Email features into SE contact form offer value-added features to your business. You can focus on launching your SMS marketing campaigns and all your potential leads and customer contacts will be collected in one place.
Last but not least, SE contact Verification Form does not require any the programming skills and complex instructions. Just one short code [secontactform] and the contact form will be added to your web page.
LATEST UPDATE: The new outlook is currently featured by Wordpress plugin especially for the sections below:
SMS setting
Email Setting
CRM database setting
Main Form setting
Extra fields
---
Installing iSMS SE Contact Form
Download SE Contact Form wordpress plugin (Click on the download button as shown below).
Upload to your plugins folder. (it's usually placed under wp-content/plugins/)
Activate the plugin ( SE Contact form) on the plugin screen.
Configure it on settings screen. (Go Settings, then SE Contact Form)
Using SE Contact Form to Web Page
Copy [secontactform] and paste it into any pages that you wish to display the contact form. In a normal circumstance, this form is placed at your site's contact page.
Customizing Wordpress SE Contact Form
Note: Terms references are available in plugin. The terms explanation is located on the right side of setting's form.
After finished the installation of the Wordpress SE Contact Form Plugin, you may click on the tabs below to configure it.
In this mandatory tab, fill in the appropriate details. You may use any of your email accounts for the configuration. However, the standard practice to follow is by creating a noreply email account which is solely for this plugin use to avoid complications.
iSMS Philippines allows you to choose the fields to be appeared in your site's contact form. What you need to do is just click on the "Contact Form Setting" tab and check the necessary boxes.
A sample of a standard contact form is illustrated below. You can make adjustment accordingly to suit your required details from your prospects by checking the boxes in order to include other fields.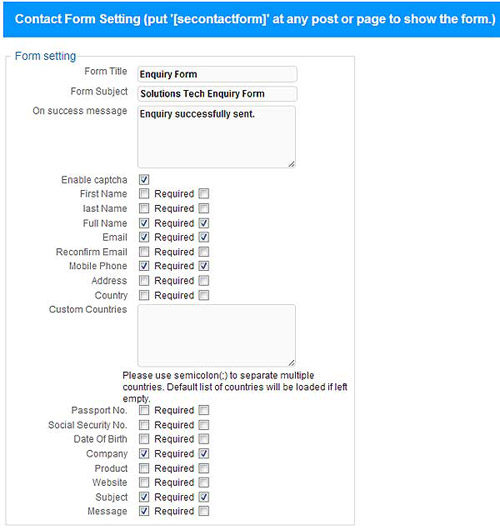 If the required fields is not in the default list, you can insert the custom fields by clicking on the "Extra Fields Tab".
Note: You are only required to insert text fields and selection boxes.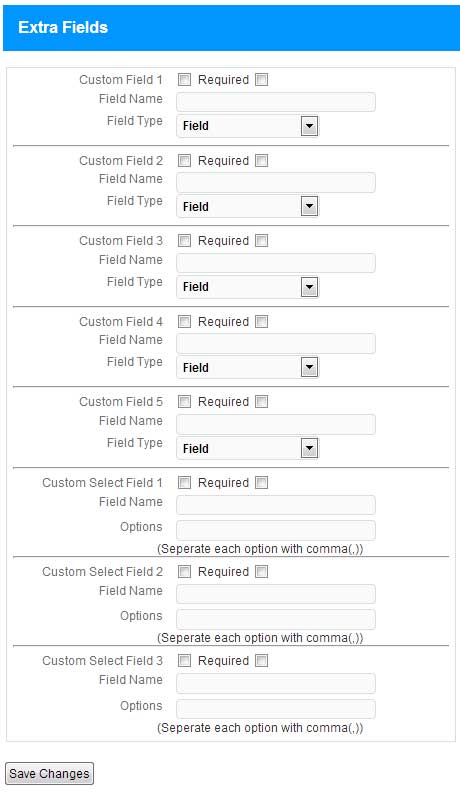 Enter iSMS Philippines username and password to continue.
Register a free trial account with iCRM to see all saved contacts and stay connected with your potential customers. Fill in your iCRM account information to continue.
Select "Save Changes" to save all configurations.
Your configurations is then saved.