Google URL Shortener and Analytic Tracking
Embedding a web link into SMS is an effective way to increase customer engagement. A hyperlink can direct recipients to a website or an image (make sure that the landing page is mobile-friendly). However, most hyperlinks are lengthy and could exceed the characters limit.
URL shortening techniques are widely adopted then. You can now use Google URL Shortener to shorten your URL and still direct user to the correct webpage.
Shorten, Share and Track
Google URL Shortener also enables you to track the number of users visiting your website. However, it is visible to all users.
Google URL Shortener makes your long URL short. Let's get started with the quick guides below.
Google Shortened URL Example

Google URL Shortener makes it easier for you to share your URL links with your customers.
How to create a shortened URL?
1. Go to Google URL Shortener.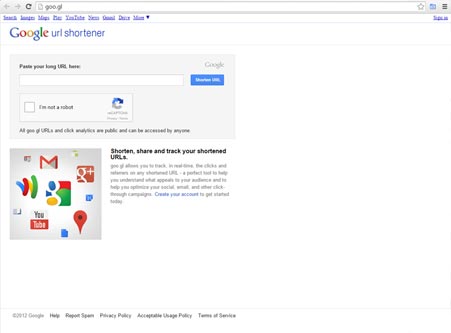 2. Sign in to your Gmail account, create new account if you do not have one.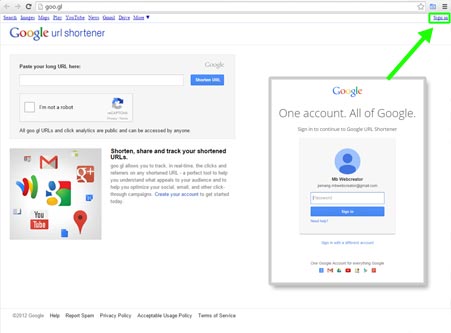 3. Paste your long URL into the text box.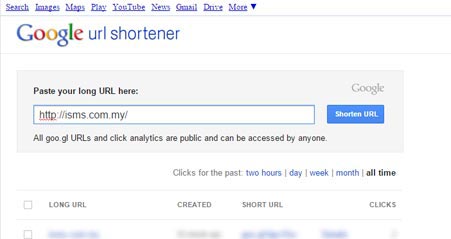 4. Click the Shorten URL button to generate short URL. A shortened URL link will be generated on the right. Copy and include it into your text message.
Creating Shortened URL while signed in vs signed out
Signed in
Your links will be automatically added to http://goo.gl/ where you can perform tracking.
A unique short URL is created each time a long URL is shortened.
Signed out (Guest User)
Your links will not show up on http://goo.gl/ page
The same short URL is reused/ repeated each time a long URL is shortened by you or someone else.