Virtual Number

Hosting

Virtual number hosting allows one server to share its resources, such as memory and processor cycles. That is a better way to receive short message service (SMS) from your users or clients to your Server or Database, through a connection to our bulk SMS gateway. Every short message service (SMS) sent to the virtual number will be forwarded to your account with us, your mobile phone or to any URL of your Data Base Server.

The virtual number will serve as a shared phone number of your short message service (SMS) application. Using to our service you can create unlimited keywords and sub keywords on this shared virtual number. Our bulk short message service (SMS) gateway will forward all received short message service (SMS) to your opted route using a certain protocol or interface that suits best to your needs. Example HTTP, HTTPS, SMS to email, etc.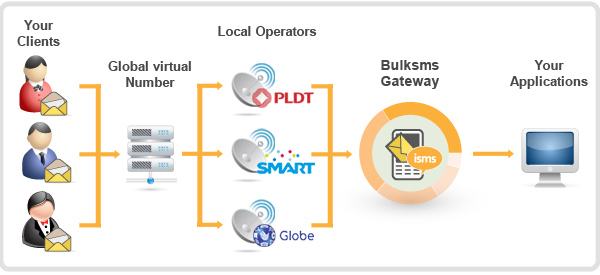 Virtual Number Support
Shared Your Own phone number with unlimited sub keywords
Sender will be charged only as per their SMS Plan
Outgoing SMS will be charged as per your SMS Package with us (www.bulksms.com.ph)
Supports International incoming messages +63
Keywords can be resell
Where this can be used?
Where SMS number is printed on the advertisement
Where communication is done internally with in companies employee for information sharing
Day Report submission to head office by employee
Updated price list of company products
Checking stock status
Declare Examination Results via SMS
Integration with any Web, Desktop, ERP or SAP Applications
Virtual Number Features
| Features | Support |
| --- | --- |
| Keywords | 1 |
| Sub Keywords | Unlimited |
| Custom Message | |
| Email Reporting | |
| URL Forwarding | |
| API | |
| Control Panel | |
| Live Traffic Log | |
| Works for all GSM, CDMA operators that support text messaging | |
| Receive SMS globally | |
| Maximum 500 Incoming SMS per day | |
Pricing
Plan
1 Month Cost per Keyword (Philippines PESO)
Total (Philippines PESO)
1 Month Plan
3,000.00
3,000.00 (Purchase Now)
* Setup Period - 3 working days
You may make payment at
Click Here for Paypal Payment link